THE TRUST IN THE PANDEMIC
An Update from our Founder and Chair, Lois Pollock

What has been happening to people in Uganda during the pandemic and what has the Trust been doing?
Uganda's President Musevini ordered an immediate nationwide lockdown on 30th March after 33 people returning from Dubai were found to be infected with Covid 19.  He closed all the borders except to trucks transporting essential items. The airport closed. Schools, nursery schools and universities were closed.
In terms of Covid that may have been a wise decision BUT it has had terrible social consequences in a country where about 65% of the population (around 40 million people) live on $1.90 per person per day.  People who work in Kampala, often coming in daily from some distance to set up their goods along the roadside or to sell fresh fruit and vegetables in the numerous markets around the city, found themselves with no means of earning income. 
Taxis (ancient people carriers more like mini-buses) were restricted in the number of passengers they could carry and boda-boda (motor cyclists who carry one, two or sometimes three passengers at a time) were required to register and record details of any passenger they carried. Needless to say that did not work as passengers made up mobile numbers and/or refused to give their contact address.
Quickly, a curfew was announced that limited the hours that people could even be out walking in the streets and those who infringed the rules were met by the frequently vicious arm of police. There were numerous reports of people being beaten up by police and several instances of police using live ammunition against clusters of people either trying to buy food, or moving about outside of the curfew hours.
Uganda lags behind many others in Sub-Saharan Africa in other non-monetary areas, notably sanitation, access to electricity, education and child malnutrition.  I would add into that an almost total lack of health care for elderly living in rural areas - many of whom suffer from nutrition deficiency and consequent preventable diseases.
And so back at the beginning of April this year, I began to receive reports from students who are supported by the Trust in higher education about the situations they returned to in their villages.  
A medical friend, Dr Alfred Omo, is a highly skilled heart surgeon in Kampala with a private clinic there which he uses to support his small private hospital in Apac in northern Uganda. He told me early on that income from his Kampala clinic had dried up as people could no longer afford to visit the hospitals.  
He began to see people back in Apac without charging any fee to those who could not afford to pay, continuing to travel the 300 kms from Kampala & paying from his own pocket to take medicine and supplies to the hospital in Apac and to help the staff there who had lost income in the lockdown. 
Alfred started visiting outlying villages near Apac, running clinics to deal with some of the more simple problems people face: he was particularly concerned by the numbers of vascular problems he found that required attention in a regional hospital.  The Trust at his request, purchased a vascular Doppler for him so he could better diagnose irregular blood flow in those patients, treat them more appropriately and make essential referrals to regional hospitals.
He told me of shocking levels of deprivation in some of the villages and particularly among elderly people living alone. These are mainly women - grandmothers who have reared grandchildren after the parents died from HIV/AIDS or moved away looking for work and never returned.  When the grandchildren grow up, they also move away or the girls get married too young and leave for their husband's village. The photo shows a poverty-stricken widow in Apac.
Youth unemployment in the rural areas all over Uganda is a major social problem and not only offers no hope or future to that generation of 18 - 25 year olds, but leads to increased alcoholism and a high number of child pregnancies with girls as young as 15 being "married" by parents who demand financial compensation from the parents of the youth in return for not reporting the young man to the officials.
Alfred told me that the complete shutdown of local markets and the lack of money had begun to create a situation that he anticipated would lead to people dying of starvation.
At the same time, I was getting similar information about the plights of people living in two large slum areas of Kampala where I have worked in various projects since helping to establish Hope for Women in 2013.  
Hope for Women comprises a group of women who quickly took on the challenge of forming a strong savings group and then setting up small businesses by taking loans from their own savings group.  Hope for Women has gone from strength to strength year on year, mentored by a friend of mine, Tina Achilla, whom I have known for 15 years since she was employed at TASO (The Aids Support Organization).  Together, she and I worked at getting women trained and empowered to a point where with leaders from among themselves, they were able to register locally as a Not for Profit organization.  I have trained the women over many years now and the Trust has funded external training for them in making reusable menstrual projects and teaching adolescents about their reproductive rights. 
Last year, I successfully applied for a grant of £2,500 from a UK trust, the Carmela and Ronnie Pignatelli Foundation, to organise training sessions in a number of secondary schools on menstrual hygiene. These would be led by Tina and one of the leaders of Hope for Women, Anna, who has built up a small tailoring business.  The lockdown interfered with that plan too, but with the consent of the Foundation and under Anna's lead, using her tailoring skills, some of the women made over 600 affordable and reusable face masks so that everyone living in the slum area in too close proximity to neighbours could have some level of protection.  The Trust commissioned another 280 masks from Hope for Women to give to a rural hospital in eastern Uganda and to provide for an extended family in Kampala and another in northern Uganda.  
Again, supported by the Trust, a group of eight women from Hope for Women, along with two unemployed young people from Apac - Mercy aged 16 and Allen 17 - have all just successfully completed a simple shoe making training course. The value of this training lies in enabling people not only to learn a skill - particularly crucial for those who have little education - but also to think of starting a small business.  
Mercy & Allen, the two young people from Apac, seen in the photo wearing the shoes they had just made, will be the beacons to help Dr Alfred Omo and me take forward a longer-term project that I have been planning for one village in that area (see here).  These two young people are exactly the kind of youth the Trust wants to support in the attempt to create lasting change in their community. The back story, or the little I know of it, will be of interest.
Allen is an orphan currently living with an uncle in the village in Apac district. His mother died last year after a long illness: Dr Omo reported that everything the family had was sold to support the costs of the mother's hospitalisation - even so, he said, she "died so miserably". Alfred's contribution was at very least to provide money so that she could have a decent burial. Allen's father was apparently never 'around' or supportive and Allen dropped out of school in Primary 6 when there was no money for school fees.  He has been out of education now for about 6 years and so to try and offer him vocational training and the skills to start his own small business is a more realistic prospect than trying to get him back into education.
Mercy's mother is illiterate but managed to run a food kiosk until Covid closed down the markets. Mercy's father has another wife. He is living with AIDS and is constantly admitted to hospital for treatments for the various complications of his disease. Fortunately, he did not infect Mercy's mother with HIV.  Mercy has completed Senior 3 year and she is desperate to complete her education: she was a very keen participant in the shoe-making training, seeing it as an opportunity to carry on with making shoes and selling them towards building up sufficient funds to allow her to return to school.
I heard independently from the trainer on the recent course that Mercy was very, very quick to learn that she was meticulous in keeping notes and took much away from the training. I am hopeful that the Trust will be able to help fund her through Senior 4 and if at all possible, on through to S6 to give this young woman the prospect of a future. In monetary terms, the fees are likely to amount to around £300 per year - so very little but unfortunately, the Trust already has so many commitments... I think we will definitely manage S4 fees, but I can't be certain about going on...
To return to the pandemic, at a practical level, the Trust has provided funds to enable the feeding of over 140 people who were at risk of starvation during the months of April until August.  Our trusted representative in Kampala, David, on receipt of money from me, purchased from a wholesale market for each family: 25 kgs posho (maize flour that can be used for making porridge and a WHO recommended staple for people living in sub-Saharan Africa); 25kgs rice; 5 litres of cooking oil; 20 long bars of hard soap for hand & clothes washing and, as needed, sugar, salt and a small monetary allowance. The photo shows posho being distributed in an Apac village. These allowances continued until September when some restrictions were lifted in parts of the country, enabling the Trust to reduce the number of families receiving this assistance. 
We will however continue to offer food parcels to a teacher, Francis, and his family who received no salary for seven months and who are now expected to live on one-third of the teacher's pre-Covid salary. Francis is someone that the Trust has supported in the past, covering his fees as he took and achieved a Bachelor in teaching from Makerere University at the end of 2018.
On June 3rd, I received an email from a young man named Khris who had discovered the EHTU website. He wrote:
Good morning sir/madam, I am kindly writing to you to ask for help in this covid crisis which has left me with my family with no work and struggling to find food. I am a student who finished my college and failed to raise money for tuition to do medicine and surgery . Am staying with my mother and 4 other siblings in a double-roomed rented house which my mother at the same time was using to (make) & sell off some local alcohol. We used all the things she had stored as she has spent 2 months without working, and now we are struggling to get at least one meal a day. I kindly request you to help in any way you can. Thank you.
Initially, I replied :-
Dear Khris,
I am not sure how you got my email: unfortunately I am not in a position to reach out and financially assist you although I do understand the difficulties you are going through at this time with the lockdown in Uganda.
My very, very small Trust is overstretched with the numbers we are assisting at the moment and we have no further capacity to take on any new person.
Sorry to disappoint you. Have you contacted your local LC1 to advise of your food hardship?  You don't say where you are living but if in Kampala, then you may qualify for the limited food supply the government has initiated in some areas.
It turned out that Khris lives way out in western Uganda and in reality the government was not providing viable food to any of its citizens, instead giving some Party supporters small rations of beans which turned out to be rotten and unusable. After a fruitless goose-chase to one or two other organizations I thought might be able to assist Khris and his family, I asked him to give me more information about his family and I learned the following from him.
My mother had a small scale bar in which she could get money for rent for our one bedroom house and buying food but for the last three months she has not been working. I was supposed to join university last year but my uncle who was going to help and who was helping me for my advanced secondary, passed away during my vacation, so I had to sit for a dead year to look for support to continue my education. Before lockdown I was roasting meat on a roadway and this was to get some money to help my mother in supporting my siblings in buying books, uniforms and some small stuff that I could manage...this was so that they can also reach the level of education which I have managed. 
I am the oldest among my five siblings and am 24 years old. Our relatives are in Rukungiri and most of them are struggling to finish primary education. My mother relocated with us from the village to town, to seek work so that we can have some better education: but all isn't easy. 
My uncle who used to pay for my school fees and pledged to help me through medicine died unexpectedly; he had been living in Kampala.
My sisters are Josephine aged 5; Arinda aged 10; Mary Comfort aged 14 and Maria Favourite aged 17 years.
Initially we sent Khris 250,000 Uganda shillings (approximately £50) which he used to pay off rent  arrears; pay a fuel bill also in arrears and to buy drinking water - they have no tap water where they rent and each day have to go into town to buy several jerrycans of clean water.  He told me that with the remainder of that initial money he had purchased posho and beans because "they last for a long time".  (I also learned that Arinda aged 10 has been suffering with stomach ulcers - we paid for her to be properly assessed and diagnosed at hospital in Mbarara where tests confirmed the diagnosis and the paediatrician said the cause was her poor diet.)
Khris also told me that the university course on which he had been offered a place after exceptionally good Year 6 secondary results was to enable him to study medicine.  
A month later I asked our representative in Kampala, David, to make a journey out to western Uganda, carrying food and provisions for Khris and his family and for another family in the same area also caught by the pandemic and with no real means of sustaining themselves. 
A young man in that family, Wiston, was fortunate to obtain a government scholarship and is already studying medicine at the university which Khris hopes to attend. He had done the first term of the first year when the lockdown began. Wiston has a brother in second year of Veterinary Sciences, a sister aged 17 who is completing Year 6 and hoping to go on to university, a brother who works as an agricultural labourer and a father who has some kind of long-term neurological disorder that prevents him from earning an income. Wiston's mother has a small piece of land and is at least able to grow matooke (a staple food in western Uganda) and some other produce.  
I wanted David to assess each of these families for the Trust as I 'knew' them only through email. His shrewd assessments confirmed that they were people I wanted to support, particularly to help Khris get through medicine. 
Following David's assessment, the Trust provided funds for two refurbished laptops to go to the two medical students in western Uganda, along with payments for monthly data allowances so that they could continue learning in the absence of their Institution providing lessons. Khris will be fully funded by the Trust during the six years of his medical degree.
In a similar way, the Trust funded a TV, aerial and set top box for student Gilli in far north Uganda to ensure he could access online teaching from his university. Gilli has been supported by the Trust for several years now: he comes from a small town close to the border with Sudan. Due to the war in South Sudan and ongoing political upheaval, the outskirts of Moyo have become home to hundreds of thousands of refugees.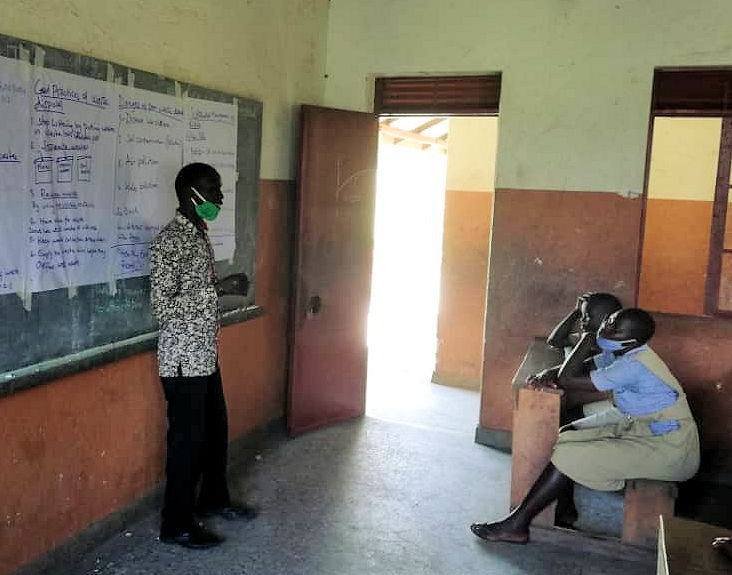 During his enforced time back in his home village Gilli, at the age of 25 and traditionally the 'head of family' as the oldest male, has not only put to use his skills learned in his university course - Agriculture and Business Studies - but has been working as a volunteer with the UN World Food Program in collaboration with Moyo Farmers Association. He has participated in food distribution in one of the refugee camps, taught primary children and some refugees attending a primary school about environmental issues (as in this photo) and he has learnt about and constructed several bio-gas cooking facilities in some villages - see photo below.
Makerere University has just reopened for some students and so Gilli has returned to Kampala in order to sit his end of 2nd year exams. He will complete his degree in 2021.  His younger brother, Saviour, is also waiting now to be allowed to start a BSc in Nutrition and Dietetics at Mildmay Institute in Kampala. Saviour's course will be fully supported by the Trust for its 4-year duration.
Gilli was the first person in his family to complete secondary education and go on to tertiary education. His mother is a single parent, her husband having gone off with another woman who has numerous children. Gilli's mum has limited education but has always worked hard to try and give her kids the opportunities she never had.  I have known Gilli for five years now and during that time have watched him mature with the educational opportunities the Trust has supported. He is very bright, very community minded and I have hopes that one day he will become a strong community leader.
In January 2021, Dr Denis from eastern Uganda (whom I put through his first medical degree ten years ago) will begin his Masters in Obstetrics and Gynaecology with all fees being funded by the Trust: this is a further three-year commitment at a cost of over £1,000 per year. When Denis completes his Masters, he will further enhance the potential health care to many thousands of Ugandan women and their families. The Trust also paid for his wife Catherine to complete her degree in Diagnostic Imaging and she topped the whole of her year in 2018 - a great achievement. She aspires to continue her studies but recognizes that the Trust is not in a position to support her and that she needs to look elsewhere for funding. Catherine works in the same government hospital in Apapai where Dr Denis is the only qualified doctor! He will be granted study leave for three years and a temporary replacement newly qualified doctor will have to go and work there as part of the government scheme for graduates to repay their grants.
With all the logistical programming for the food and subsequent food distribution, I have felt at times like a very mini World Food Program outlet!   Many, many hours have been taken up in organizing and overseeing at a great distance the distribution of food and other practical items: the Trust could not have sustained this without the generous financial support received from our donors. We owe them a great deal of thanks.
The regular monthly food support to two slum areas in Kampala, the 12 economically poor families in Apac, northern Uganda, the two families in western Uganda, one family in eastern Uganda already well known and supported by the Trust over many years, and to student Gilli whose family is in northern Uganda close to the Sudan border, ended in September subject to occasional exceptions. But I realised thinking about the Apac families that it is quite unsustainable to support so many people long term on the tiny income that EHTU has. I believe that long term just handing out money or "things" only breeds dependency and does not enable communities to find solutions to their own problems. 
This has led me to develop a longer-term plan for the Trust to promote development in Apac, about which you can read here.
Lois Pollock
November 2020